Umowa o pracę
Dodana 3 tygodnie temu
Fujitsu Technology Solutions Sp. z o.o.
We are looking for:
z/OS Junior Software Developer
The role holder is responsible for developing more complex new modules and products, which satisfy the customer and give competitive advantage to Fujitsu.
Key Accountabilities
Product Development. Designs, develops, implements and tests modules and products including hardware, software, operating systems, firmware and BIOS, in line with agreed timelines, budget, costs, quality and development standards. Actively participates in calculation of development and product costs.
IT Integration. Provides integration facilities and provisions logistics.
Process Improvement. Suggests and implements proposals for process improvements within projects.
Innovation. Uses new technologies and methods actively to develop highly competitive products.
Documentation. Provides technical documentation on realized modules / products, following internal standards.
Maintenance. Provides Back Level maintenance support, including problem solving, for own modules and if necessary for foreign (sourced from third party supplier) components.
Lifecycle. Provides development support during lifecycle of modules and products. Is responsible for development of new versions and updates based on defined requirements.
Technical Expertise.  Maintains high level of product and solution knowledge. Maintains his skill profile up-to-date.
Key Performance Indicators
Development of modules/products on time, to budget and targeted product costs, in accordance with agreed specifications and standards
Achievement of targeted Product Quality
Policies, processes, procedures are applied
Documentation of development steps or milestones in line with requirements
Escalated problems are solved
Effective communication and team work including external development partners
Requirements
Experience in developing & maintaining applications (at least one year)
Assembler programming experience
Readiness to learn IBM Mainframe Assembler
Focus on IBM Mainframe & z/OS
Passion for development and long-term code quality
Responsibilities
Designing and implementing components of z/OS Virtual Tape Library software interface in IBM Mainframe Assembler
Perform a mix of maintenance and new development as required
Service & customer support
Nice to have skills
What you can expect?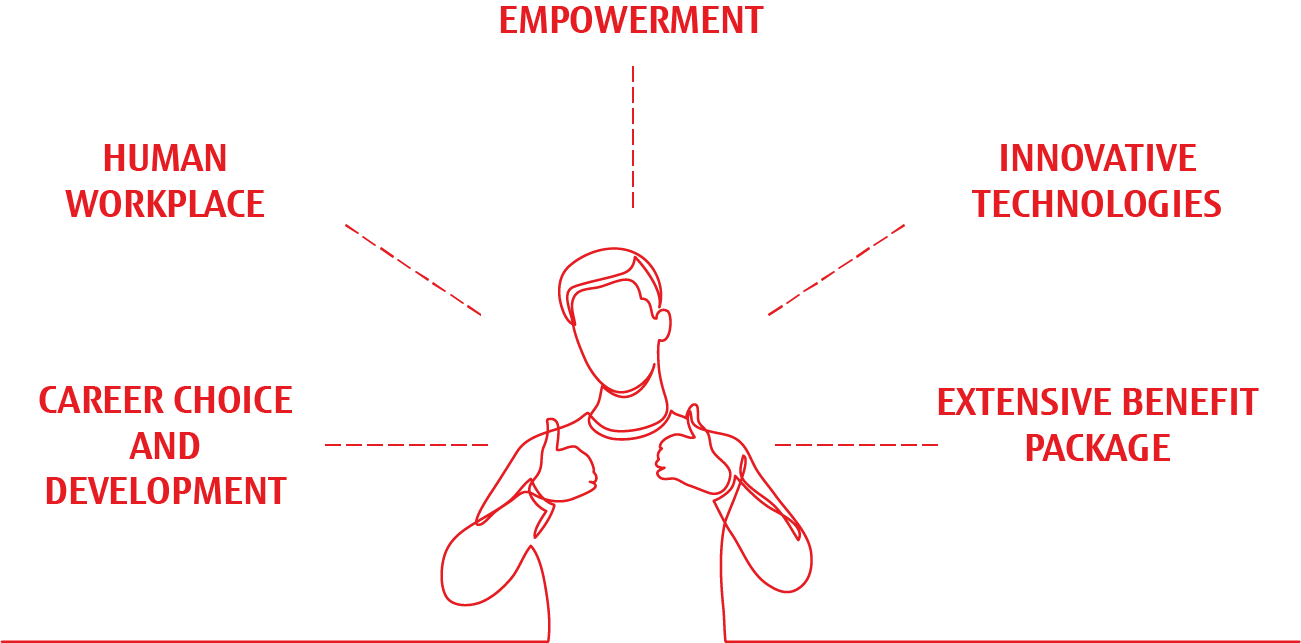 HUMAN WORKPLACE

Work-life balance
Appreciation of your work, awards program
Support and motivation
Friendly atmosphere, diverse and international
Job security

CAREER CHOICE AND DEVELOPMENT

External and internal training, courses, conferences
Opportunities for growth and promotions
Development opportunities in all directions
Friendly atmosphere, diverse and international – vertical and horizontal
Possibility to change department or scope

EMPOWERMENT

We develop our unique know-how
We work with over 100 globally recognized brands, conducting prestigious large-scale projects
Employees can have an impact on the services provided to clients, openness to dialogue

INNOVATIVE TECHNOLOGIES

Access to high quality equipment and innovative technologies which we work with everyday
Industry-leading solutions, systems and programs
EXTENSIVE BENEFIT PACKAGE
EMPOWERMENT

company events such as picnics and Christmas parties, relaxation zones in the workplace, CSR programs, cinema tickets,
internal contests, discounts for Fujitsu employees
in selected venues

COMFORT

attractive locations
in Łódź and Katowice, flexibility and home office for selected positions, team building meetings, hot and cold beverages

HEALTH

medical care, cafeteria benefit system: My Benefit, fresh fruits, Fujitsu sports teams e.g. running team or cycling team

Fujitsu's offices in Poland are located in Warsaw, Łódź and Katowice. In Warsaw, we run sales and client support services. The Global Delivery Center Poland located in Łódź and Katowice employs specialists in five business lines: Research & Development and Business Application Services, Remote Infrastructure Management, Business Process Outsourcing, Service Management, Service Desk. In Łódź, Fujitsu also employs specialists for internal Fujitsu services for the EMEIA region in the following areas: Finance (Accounts Payable, Accounts Receivable, General Ledger, Project and Contract Accounting, Treasury), Supply Chain and Order Management, Continuous Improvement, Assurance, Internal Audit, Product Pricing and Bid Finance as well as Human Resources. We welcome developers, quality assurance engineers, IT specialists, IT administrators, IT engineers, candidates interested in a career in IT, accounting and finance professionals, logistics specialists, linguists and customer service professionals.
Contact us!
To apply for this opportunity, please send your CV in English – use button below.
GDC: + 48 42 271 30 01
EMEIA: + 48 514 861 909
F: www.facebook.com/FujitsuPoland
L: https://www.linkedin.com/showcase/career-at-fujitsu-poland/